Not yet released!

This article or section includes information about announced content that has not been released yet. The expected release date is unknown.
Please remove this template when the content has gone live.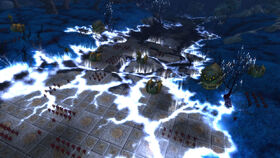 The Horrid March is a swath of cursed ground in the Dread Wastes that stretches east from the Heart of Fear all the way to the gates separating the Wastes from the Vale of Eternal Blossoms and also south to the wall separating the Wastes from the Valley of the Four Winds. The mantid and sha have a heavy presence here, and the mantid are assaulting the gate.
Areas within the northern march include Kypari Vor, the Clutches of Shek'zeer, and the Fear Clutch, while the southern areas include Kypari Ik and the Panic Clutch.
Inhabitants
Mid subzone
Vale gates
Patch changes