104,156pages on
this wiki
Talk

1
This article is about the Paladin ability. For information on the Religion of the Holy Light, see Light.
For the Warcraft III ability, see Paladin (Warcraft III).
Holy Light
Usable by
Class
Paladin
Properties
Type
Utility
School
Holy
Cooldown
 (GCD 1.5 sec)
Talents
Specialization
Holy
Level required
34

TCG

image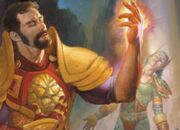 "The third and most important of the Light's virtues is compassion." —Uther the Lightbringer[1]
Holy Light is a paladin ability learned at level 34 for those with the Holy specialization.
Modified by
Notes
References
External links