Hodir's Horn

Use: Blows Hodir's Horn at the corpse of a Niffelem Forefather or Restless Frostborn.
Cooldown: 10 sec
Hodir's Horn can be found in The Storm Peaks. [64.0, 64.7]
This item is provided for the quest

 [80 Daily] Blowing Hodir's Horn.
As an object
Edit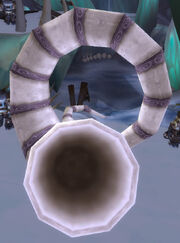 Hodir's Horn is a likeness of the Horn of Hodir. It is a monument erected in memorial to King Arngrim and all others lost in the battle of Thunderfall. It appears to characters after the completion of A Monument to the Fallen.
 [80 Daily] 

Blowing Hodir's Horn
External links
Edit
Ad blocker interference detected!
Wikia is a free-to-use site that makes money from advertising. We have a modified experience for viewers using ad blockers

Wikia is not accessible if you've made further modifications. Remove the custom ad blocker rule(s) and the page will load as expected.