Ad blocker interference detected!
Wikia is a free-to-use site that makes money from advertising. We have a modified experience for viewers using ad blockers

Wikia is not accessible if you've made further modifications. Remove the custom ad blocker rule(s) and the page will load as expected.
Chains from other zones Edit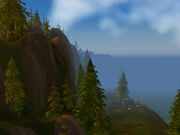 Quel'Danil Lodge Edit
Main article: Quel'Danil Lodge#Quests
Revantusk Village Edit
Main article: Revantusk Village#Quests
Rare Zone Drop Edit
This quest line starts with the

 [OOX-09/HL Distress Beacon], which is a rare drop from all mobs in the Hinterlands. It is one of three robot chicken escort quests.