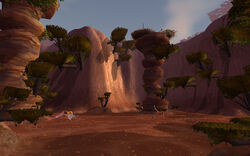 Highperch is an elevated western area of the Thousand Needles zone. [11, 37] It is home to the proud Highperch wyverns and their nests, and occasionally a mighty wyvern, Heartrazor, can be found here. Sometimes, members of the Horde come to take the eggs to be tamed as Wind Rider mounts.
Warcraft III
Edit
Highperch bestows beauty and magical powers to those brave enough to withstand savage attacks from the inhabitants who protect its secret healing waters.[1]
In Cataclysm
Edit

This section concerns content exclusive to Cataclysm.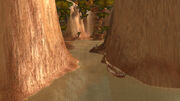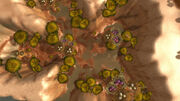 The flood waters of the Cataclysm have consumed the path leading up to Highperch, though Highperch itself only suffers from shallow pools of water. Members of the Twilight cult have taken the shelf above Highperch (Twilight Aerie) and have bound Heartrazor.
Ad blocker interference detected!
Wikia is a free-to-use site that makes money from advertising. We have a modified experience for viewers using ad blockers

Wikia is not accessible if you've made further modifications. Remove the custom ad blocker rule(s) and the page will load as expected.