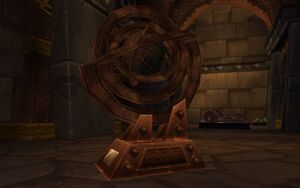 The Highborne Astrolabe is located in the Hall of Explorers in Ironforge. [69.8, 11.4]
Recovered from the undersea ruins of Suramar, this functional astrolabe was crafted by the highborne night elves nearly twelve thousand years ago. The highborne, obsessed with magic, the occult and astronomy, developed a series of ingenious apparatuses. This device provides invaluable insights into the ancient night elves' level of scientific understanding.
External links
Edit
Ad blocker interference detected!
Wikia is a free-to-use site that makes money from advertising. We have a modified experience for viewers using ad blockers

Wikia is not accessible if you've made further modifications. Remove the custom ad blocker rule(s) and the page will load as expected.