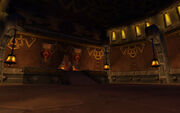 The High Seat is the throne room of King Magni Bronzebeard in the dwarf city of Ironforge. It also houses a few other quest NPCs, including Deliana and Royal Historian Archesonus.
Cataclysm
Edit

This section concerns content exclusive to Cataclysm.
In Cataclysm, Magni Bronzebeard has been turned to stone and the leadership of Ironforge has been assumed by the Council of Three Hammers: his daughter Moira Thaurissan, his brother Muradin Bronzebeard and Falstad Wildhammer.
Ad blocker interference detected!
Wikia is a free-to-use site that makes money from advertising. We have a modified experience for viewers using ad blockers

Wikia is not accessible if you've made further modifications. Remove the custom ad blocker rule(s) and the page will load as expected.