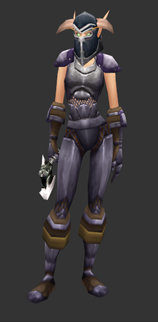 The Heavy Mithril Armor is a set of plate armor that can be made by blacksmiths starting at level 205. The set provides a total bonus of 73 stamina but has no bonuses gained from wearing multiple set items.
Bulk Materials Total
No other stats are contained on the pieces.
There are no Wrist or Waist slot pieces in this set.
Other Heavy Mithril
Edit
To complement the set one could create a

 [Heavy Mithril Axe], which is also used in quests, see below.
Heavy Mithril Items as Quest Objectives
Edit
The following parts are used in Quests.