103,468pages on
this wiki
Talk

0

Heart of the Aspects

Item Level

20

Requires level 20
Requires Apprentice Riding (75)
Use: Teaches you how to summon this mount. This mount changes depending on your Riding skill and location.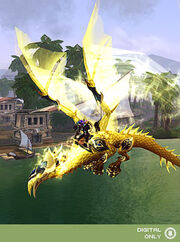 The Heart of the Aspects is a unique-looking golden drake mount purchased from the Blizzard Store.
Lore
The Heart of the Aspects is a chromatic drake "born of the radiant energies of the Dragon Soul artifact".[1] Beyond that, little is known. It may be the key to restoring the Dragon Aspects, though this is speculation but, it easy could be true because it was made from the energy from the Dragon Aspects.
Letter from Mei Francis
Those who purchase the mount recieve the mount from in-game mail with the following letter:
I'm told you've been searching for a - truly - exotic mount.
Does a drake spawned from the combined power of the Dragon Aspects sound exotic enough?
Enjoy!
Mei Francis
Exotic Mounts
Dalaran
Media
Notes
This mount does not have a walking animation; it hovers above the ground.
This mount does have a unique swimming animation.
References
Patch changes
External links
Item
Mount spell
Store

Blizzard Store (US)
World of Warcraft® Mount: Heart of the Aspects
Blizzard Store (EU)
World of Warcraft® mount: Heart of the Aspects
News
WoW Official Game Site (US)
Heart of the Aspects - Exclusive Mount Now Available
by Blizzard Entertainment Feb 14, 2012 3:14 PM PST