This article or section is likely to dramatically change once

Legion

begins.

Feel free to update any incorrect values (e.g. ability and talent articles), but please avoid overwriting all previous information with more current information (e.g. location and NPC articles).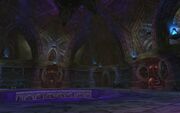 The Heart of Acherus, as its name implies, is located on the second floor within the center of Acherus: The Ebon Hold, and is the location of the necropolis' runeforges. Circling around the great hall, Instructor Razuvious inspects the bodies of the slain that are piled in the room, finding worthy souls to serve the Lich King.
During the portion of the the Death Knight quest line in which the Ebon Hold is to be claimed for the Knights of the Ebon Blade, the Lich King will send the nightmarish abomination Patchwerk and his lesser minion army of smaller abominations and scourge loyal Val'kyr Battle-maidens to retake the necropolis for the Scourges uses. Patchwerk leads this resistance from the heart and is required to be defeated before the knights may take the ebon hold.
Over the Broken Shore
Edit

This section concerns content exclusive to Legion.
Over the Scarlet Enclave
Edit

This section concerns content exclusive to Wrath of the Lich King.
Scourge Literature
Edit
A library of Scourge-approved literature:
Memoirs of a Scourge soldier's service:
See also
Edit
External links
Edit

Note: This is a generic section stub. You can

help expand it

by clicking

 Edit to the right of the section title.
Ad blocker interference detected!
Wikia is a free-to-use site that makes money from advertising. We have a modified experience for viewers using ad blockers

Wikia is not accessible if you've made further modifications. Remove the custom ad blocker rule(s) and the page will load as expected.