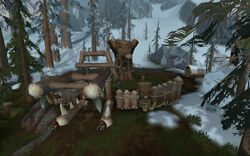 Heart's Blood Shrine [66.4, 52.9] can be found far east of Conquest Hold and past Rage Fang Shrine. Here you can find Redfang Hunters and Warriors. This is also the home of Kodian, who you must talk to about a story for the quest The Bear God's Offspring.
Ad blocker interference detected!
Wikia is a free-to-use site that makes money from advertising. We have a modified experience for viewers using ad blockers

Wikia is not accessible if you've made further modifications. Remove the custom ad blocker rule(s) and the page will load as expected.