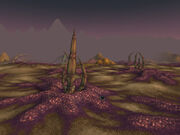 The Gaping Chasm is one of the minor silithid hives and is located in southeastern Tanaris. It is also considered to be the Hazzali hive. There are several large hive complexes filled with silithid.

 [48] The Scrimshank Redemption
List of mobs
Edit
Ad blocker interference detected!
Wikia is a free-to-use site that makes money from advertising. We have a modified experience for viewers using ad blockers

Wikia is not accessible if you've made further modifications. Remove the custom ad blocker rule(s) and the page will load as expected.