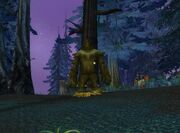 Hauteur is a fallen elemental who demands the local owlbeasts of Moonwing Den to regularly burn an effigy in his honor.
Temper wishes for you to save him, by killing him. Thus he can be reborn from his ashes anew.
Objective of
Edit
Hauteur is French for "arrogance".
External links
Edit
Ad blocker interference detected!
Wikia is a free-to-use site that makes money from advertising. We have a modified experience for viewers using ad blockers

Wikia is not accessible if you've made further modifications. Remove the custom ad blocker rule(s) and the page will load as expected.