The subject of this article was removed from World of Warcraft in patch 3.0.2.

This includes items and quests that can no longer be obtained.
The in-game information in this article is kept purely for historical purposes and should probably not be under any other categories.

Hatchet of Sundered Bone

Item Level

83

Speed 2.60
119 - 221 Damage
(65.4 damage per second)
Durability 105 / 105
Requires level 60
Equip: Increases attack power by 36.
Equip: Increases your critical strike rating by 14.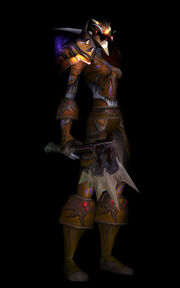 Hatchet of Sundered Bone is a one-handed axe.
Hatchet of Sundered Bone drops off Noth the Plaguebringer in Naxxramas at an approximative rate of 10%.
In a raid environment, this and Silithid Claw give the highest possible dps weapon combination for a hunter.
External links
Edit