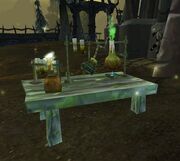 Harris's Plague Samples can be found within New Agamand in Howling Fjord. [53, 66]
Objective of
Edit
When mixing the blood with other components you have a random chance to either succeed (by creating [Balanced Concoction]) or fail with something unexpected happening.
You could just fail, with nothing happening.
Cause the concoction to explode throwing you back with moderate fire damage.
Spill the failed concoction on the ground and spawn an Animated Plague Slime.
External links
Edit
Ad blocker interference detected!
Wikia is a free-to-use site that makes money from advertising. We have a modified experience for viewers using ad blockers

Wikia is not accessible if you've made further modifications. Remove the custom ad blocker rule(s) and the page will load as expected.