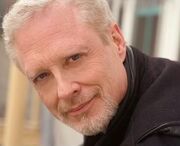 This article is about about Harlan's employment with Blizzard Entertainment. For his biography and other works, see [Harlan Hogan (Wikipedia)].
Harlan Hogan is a voice actor who has provided his voice in at least one of the Warcraft games. He's not sure which game he was on because, at one time, there were a lot of videogames being produced and the voice actors voiced the characters without really knowing what was the name of the game, as most time the games had working titles or just a project number. IMDB list him as having made the voice of Thrall, however, he negates doing that voice.
External links
Edit
Ad blocker interference detected!
Wikia is a free-to-use site that makes money from advertising. We have a modified experience for viewers using ad blockers

Wikia is not accessible if you've made further modifications. Remove the custom ad blocker rule(s) and the page will load as expected.