Halfhill
Race(s)
 Pandaren
Location
Central Valley of the Four Winds, Pandaria
Characteristics
Facilities
Inn           Mailbox Bank        Auction House
Travel
Flight Master Mass-transit
Status
Active
Sources: World of Warcraft: Mists of Pandaria β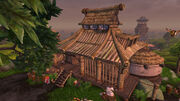 Halfhill[54.6, 46.9] is a very large village located roughly in the center of the Valley of the Four Winds, south of the Pools of Purity and New Cifera. This is where the Tillers are found. The Halfhill Market is located on the town's southern side.
Flight paths
Edit
Inhabitants
Edit
Quest givers/enders
Merchants
Services
NPCs
The inn here is called The Lazy Turnip.
Patch changes
Edit
External links
Edit