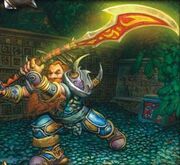 Halberd of Smiting is a polearm with a big damage proc.
This item drops from Bloodlord Mandokir in Zul'Gurub.
The halberd's estimated drop rate is 6%.
The proc is very low (about 0.3 procs per minute).
Although the proc rate is low, the chance of proc being a critical hit is quite high and this weapon has the potential of 1-shot low hp players with its scary critical proc.
Patches and hotfixes
Edit

Patch 1.7.0 (13-Sep-2005): Added

External links
Edit