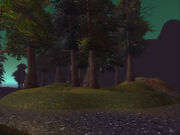 Gunther's Retreat is an island located in Brightwater Lake in central Tirisfal Glades. While most of the islands' inhabitants are mindless Scourge zombies, it is also home to the Forsaken lich, Gunther Arcanus, who believes himself to be the only sane undead in the world.
Ad blocker interference detected!
Wikia is a free-to-use site that makes money from advertising. We have a modified experience for viewers using ad blockers

Wikia is not accessible if you've made further modifications. Remove the custom ad blocker rule(s) and the page will load as expected.