Guild:The United Exiles (Moonglade EU)
Talk

0
Share
Ad blocker interference detected!
Wikia is a free-to-use site that makes money from advertising. We have a modified experience for viewers using ad blockers

Wikia is not accessible if you've made further modifications. Remove the custom ad blocker rule(s) and the page will load as expected.
| | |
| --- | --- |
| | The United Exiles |
This article is a guild information page for The United Exiles of Moonglade Europe.

The contents herein are entirely player made and in no way represent official World of Warcraft history or occurrences which are accurate for all realms. The characters and events listed are of an independent nature and applied for roleplaying, fictional, speculative, or opinions from a limited playerbase only. Guild pages must comply with the guild page policy.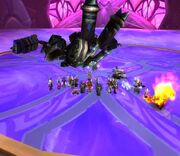 The Unites Exiles is a casual Alliance guild on the server Moonglade EU.
Who are The United Exiles?
Edit
We're just one small happy family. Getting hugely expanded is NOT our objective. Because believe it or not it will destroy this kozie sentiment about our small happy and Happy family. Yes we are small in members but BIG in our hearts. We help, respect and care for each others. The United Exiles is our happy home.
That is our true identity and we do NOT intend to change it whatsoever.
Raiding is not our major priority. However we do raid the small places. Rushing to get bigger so we can raid the big ones wont happen. We WONT jeopardise our family for raiding purposes.
Notable members
Edit
Character
Guild
Server
Spec
Base Stats
Skills
Professions

Dragoran

70

The United Exiles

Moonglade EU

41/20/0
9597
10023

132

83

640

490

122

15883
370
375
16
375
 
225

Xialong

70

The United Exiles

Moonglade EU

0/0/61
8174
10325

91

93

459

549

439

3009

375
375
 
300
 
225

Gildorr

70

The United Exiles

Moonglade EU

5/0/56
11124
 

214

110

686

33
56
12793
364
375
1
225
1
225

Samanty

70

The United Exiles

Moonglade EU

23/38/0
7981
10873
36
50

477

548

398

1497

375
375
 
305
 
225

Shubi

70

The United Exiles

Moonglade EU

5/5/51
8620
9595
46
61

531

484

188

1281

375
364
93
257
73
225

Nimbu

70

The United Exiles

Moonglade EU

33/28/0
7313
10796
28
42

410

589

241

1509

375
375
 
375
225
225

Alegria

70

The United Exiles

Moonglade EU

51/10/0
10246
6328
61

461

637

215

83

6945

255
375
 
375
 
225

Eagle

70

The United Exiles

Moonglade EU

38/23/0
12324
 

457

192

806

39

57

10112
375
375
 
375
1
225