This article is a guild information page for Reverends of Swagger of Firetree US.

The contents herein are entirely player made and in no way represent official World of Warcraft history or occurrences which are accurate for all realms. The characters and events listed are of an independent nature and applied for roleplaying, fictional, speculative, or opinions from a limited playerbase only. Guild pages must comply with the guild page policy.
It was once thought lost, destined to remain hidden in the past. But a small group of heroes would rise to reclaim it. The journey would be long; the path perilous. But the rewards would lie beyond all comprehension. The swagger is back.
Overview
Edit
Reverends of Swagger is an active Alliance guild on Firetree US. It was formed by most of the founding officers and core members of Displaced. They felt that the guild had lost its identity and sacrificed too much to be steered back to its original direction. With the release of the Burning Crusade close-by, they reformed to prepare and return to The Way That Was.
Our Gospel
Edit
We aren't looking for members; we're looking for friends. We are selective in who we choose to call friends. It's a matter of quality, not quantity. We want friends we can count on, not a number to impress people. You don't have to be the best. We only ask that you're mature, fun to play with, and not dependent on others. (Recruitment)
We Crucify Our Enemies
Edit
You may have friends that are horde. You may play horde. However, on Firetree, we kill horde. Carebears aren't welcome.
We Find Strength in Our Brotherhood
Edit
Our strength grows through our membership and personal contributions. We assist our brothers to make them stronger and through them we grow stronger.
We Are All Equal in the Faith
Edit
Reverends have earned the right to be in our guild. We have officers that help with the smooth operation of the guild, but all members and their opinions are equally important and entitled to full consideration.
We Testify
Edit
There are many that can have no place among us. Those that are Reverends carry the blessing of the guild and its membership in all actions. Retribution to the unbelievers. We know our faith.
We Bring Glory
Edit
Our members Testify and so does the guild. We aren't out to be nice or kind. We are concerned only for our members and our guild. We will achieve our goals by any means necessary, even if our Swagger needs to land in your eye.
We Never Forgot
Edit
And, we never forget. We never forgot what our old guild was and what it became. We never forget our enemies. Remember this fact well.
We started as a PvP guild and began doing PvE to get better gear for our members. We always did what was best for ourselves and our guild. We weren't interested in progress for the sake of progression but getting the most gear in the least amount of time so we could enjoy other aspects of the game. We had fun with each other and this made everything we did in the game fun. We were never larger than we needed to be and we didn't sacrificed to gain a new player. We want friends we can trust and play with.



We are preparing for the expansion. We anticipate plenty of solo and group activity, but we expect players to be self-sufficient. We are always looking to recruit players of similar mentality. The Reverends of Swagger still remain true to The Doctrine of Swagger. We continue to be a laid-back guild that offers it's members a great degree of freedom not found in most guilds. We do not limit their in-guild or out-of-guild activities.

Wrath of The Lich King
Most of our players are long time veterans of WoW, and are well-established personalities on Firetree. We continue to look for and welcome like-minded players into the fold. We move through 10 and 25 man raids at a leisurely rate, whenever enough interested players happen to be on, never taking progression too serious or forcing players to commit to a date. We've cleared Naxx10-ToC 10, and are up to Twin Valkyries in ToC25.
As long as the flames of Firetree burn, The Reverends will be there to preach The Word of Swagger.
External links
Edit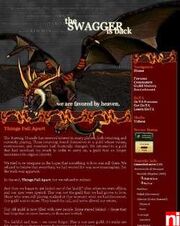 Reverends of Swagger Homepage
Reverends of Swagger Forums
Reverends of Swagger History
Message Us (used for recruitment, comments, etc.)
Ventrilo Server Information

Ad blocker interference detected!
Wikia is a free-to-use site that makes money from advertising. We have a modified experience for viewers using ad blockers

Wikia is not accessible if you've made further modifications. Remove the custom ad blocker rule(s) and the page will load as expected.