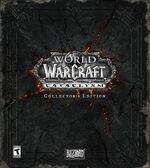 This article is a guild information page for Prima Lux of Jaedenar Europe.

The contents herein are entirely player made and in no way represent official World of Warcraft history or occurrences which are accurate for all realms. The characters and events listed are of an independent nature and applied for roleplaying, fictional, speculative, or opinions from a limited playerbase only. Guild pages must comply with the guild page policy.

Prima Lux is a nice PvE guild with a dozen members and a lot of fun. Kindness and respect are the main words in these guild. Not so serious and hard-core, but focused on few but precise objectives. We would like to become the entry point for Italian players on Jaedenar both for guild players and guild achievements.

The guild was created in September 2008 on Jaedenar. We are at most Italian players (99%) at high levels, but we are not close to foreign guilding. Actually we cannot support and help so much players running 1-80. The main objectives are end game instances, and we recruit also people with low experience who want to learn and see whatever is possible in the game. To fill out an application go to [http://primalux.guildlaunch.com]. For more information you can contact Edentor (or Pladian), Odissey, Baramir, Agarty, Arwuen or Eolnightelf in game.
Guild progress
Edit
Not mentioning Naxxramas, Malygos, VOA and Ulduar (who are already old raids), this is the progress
Onyxia 10 Normal - farm status
OS 10 Normal - farm status
TOC 10 Normal - farm status
Icc10 Normal - 7/12 (hope to farm it in few weeks)
Ruby Sanctum - starting in the next weeks
This guild was originally created by 5 crazy persons who left Crushridge on their own to try a new experience. At the beginning it wasn't easy (8 people needed to create a guild) and we wrote with ad hoc channel since we hadn't a guild. We found some valuable players who wanted to share the adventure with us. Slowly we growth at the point we could Raid10 by our own. In this way, we managed to come at the current status. In Cataclysm preview, we would like to expand ourselves until filling (or almost) 2 x Raid10. It's no use I write how will be important in Cataclysm preview, the value of a guild and being in a guild. We are not looking for persons who want just lose time, we would like people to participate to guild life, with the clear point that real life is always and anyway more important above all.
Weekly raid schedule
Edit
The raid schedule is about like this, subject to reviews.
Monday, 9:30 PM Server - 11.30 PM Server
Wednesday, 9:30 PM Server - 11.30 PM Server
Thursday, 8:00 PM Server - 11.30 PM Server
Friday and Saturday are holy days, both for Friday night and for Saturday and Sunday all day. No one will ask for presence in these days, except maybe for some changes to Raid Schedule that would bring to replace one of the upsaid days with Sunday 9:30 PM Server - 11.30 PM Server. For the rest, since the guild was created, "Friday and Saturday Night Fever" have always been safe ;-)
Guild rules
Edit
This is a "easy play" raiding guild in which anyway some efforts are requested.
Everyone's welcome until the language is pretty good and there's respect for everyone.
Anyone will be helped in questing or prequests (if needed) and will have free access to bank enchants and mats (where available).
We have our own voice program with a private room
We don't use a DKP system for loot at the moment (and we hope to don't use it also in the future); it's free roll, considering 1 epic per player per run in Raid 10 and 2 Epic in Raid 25. Some exceptions are anyway taken in consideration (players with very low gear may loot more than 1 epic in Raid 10).
Recruiting Status
Edit
At the moment we are looking for few people to fill the ranks. We would need 2 tanks, 2 healers and 2/3 DPS
Officers
Edit
Edentor, Guildmaster 

Guild leader. Contact for administration and recruiting. Also available with alts Pladian and Noradudu
Odissey, Officer 

Available for recruiting and explaining details.
Baramir, Officer 

Available for recruiting.
Agarty, Officer 

Available for recruiting.
Arwuen, Officer 

Available for recruiting.
EolNightElf, Officer 

Available for recruiting.
Ad blocker interference detected!
Wikia is a free-to-use site that makes money from advertising. We have a modified experience for viewers using ad blockers

Wikia is not accessible if you've made further modifications. Remove the custom ad blocker rule(s) and the page will load as expected.