This article is a guild information page for Order of Knights Templar of Lothar US.

The contents herein are entirely player made and in no way represent official World of Warcraft history or occurrences which are accurate for all realms. The characters and events listed are of an independent nature and applied for roleplaying, fictional, speculative, or opinions from a limited playerbase only. Guild pages must comply with the guild page policy.
"Order of Knights Templar", or OKT, is a large (over 500 members) multi-faceted and all-purpose guild playing

Alliance side on Lothar-US. The guild's goals and structure are based upon original (historical)and modern (masonic) knights templar precepts translated into a gaming environment. Support and resources are provided for all aspects of the game, from introductory help, questing and leveling, through dungeons, pvp, and world objectives, to both core and casual endgame raiding. The Guild shares resources, information, social experiences and game knowledge for the mutual benefit and recreation of the guild and its members.
Membership is open to all regardless of game or life experience. Adults and mature young people comprise the guild demographic with many circles of families, friends, and fraternal associations. Due to the wide range of its members, the guild maintains a level PG-13 ingame chat, and restricts adult-oriented topics and language to voice over IP channels to provide a balance for safe as well as satisfactory recreation.
The Order of Knights Templar Organization is structured into regiments under its formal posted Charter and Bylaws. As a large guild, it is broken down into regiments. Each regiment is led by a senior Guild Officer known as a Pro Grand Master. The Pro Grand Masters each are responsible for a major organizational game element, such as a level range of members, a core raid group, recruitment and retention, in-game social events, class leader positions, or pvp objectives. Pro Grand Masters are assisted in their duties by Generalismos who also act as moderators. Officers and leaders are nominated and balloted upon by the membership with their final promotions accepted and set by the Grand Master.
Order of Knights Templar recognizes the participation, support, help and leadership of its members by presenting honors and awards to deserving members during in-game meetings. Tabards are awarded to those who reach level 20 by way of encouragement for their first efforts. Nine total levels of awards are possible. In addition to structured game elements provided by the developers, OKT makes available periodic recreational elements such as a Guild Homecoming, periodic contests and planned tournaments, and a wide variety of pvp opportunities.
One of the original guilds on one of the game's original servers,Lothar-US, Order of Knights Templar dissolved on Lothar when new, less populated servers opened and PVP realms were introduced, opening sister guilds of the same name on several servers.  In December of 2006, the Guild master brought it back to Lothar-US, with a new Charter, Bylaws, and Code of Conduct.    By the end of the Burning Crusade expansion, it was 14th in realm raid progress.
in January 2009, Order of Knights Templar had grown so large, that it was rechartered on Lothar by its original guild leader in order to bring it back to membership cap. 
OKT has so far had only 4 guild leaders, and the current guild leader restructured OKT in the direction of an all-purpose guild with casual raiding with a less formal ranking structure.  In 2013, the name was shortened to its familiar name OKT in order to reflect its casual and social direction and move away from Masonic organizational precepts.  The original name was 'retired' into the possession of its original guild leader, Bluetemplar.
OKT remains one of the largest guilds on the Lothar server.
The Guild's website is at http://okt.guildlaunch.com and contains forums, raid/boss kill progress, screenshot galleries and useful member tools and resources.
"Order of Knights Templar" Recruitment
Edit
What does it take to be....O.K.T?
Game and life experience are not necessary. We have ages 7-74 in the guild, and levels 1-85. Membership is open to all, however you may find that OKT is not for everyone. You may find OKT a comfortable and satisfactory game home if you
are an adult or a mature young person
are interested in becoming part of a large but very closely-knit and supportive team
would enjoy a successful and well-run game community
are looking for support, resources and assistance to grow your game
are respectful toward other players
just want a fun and friendly, welcoming atmosphere to socialize in
would like to find others who share your favorite aspects of the game
We provide assistance, support, and resources for any part of the game, any way you like to play it, including all available types of current endgame. Our friendly, low-drama and supportive atmosphere may be the game home you are looking for.
During periods of Open Recruitment candidates may join freely by merely asking an officer. During periods of restricted recruitment, those desiring membership must apply or provide additional information. Family, friends, and fraternal associates are welcome to join at any time.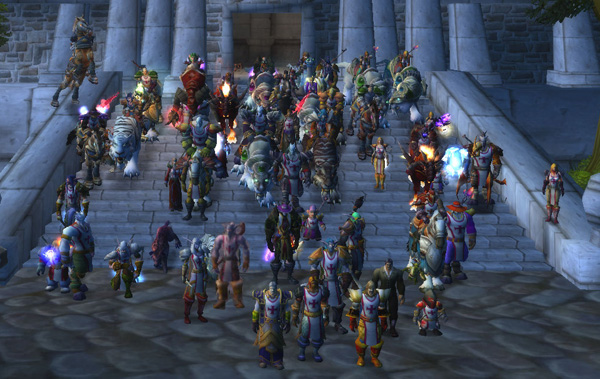 Governing Body
Edit
 
Guild Master:
User:Bluetemplar /Jaquedemolay
Pro Grand Masters:
Allegria


Celmic
Devarian
Rivendel
Ginrai
Careyna
Aquiles
Lightofdeath
Mockky
Gallani
Leafmealone
Aquiles
Morbidos
Gregarous
Clotticey
StClair
Dodoknight
Sypherio

"Order of Knights Templar" Ranks
Edit
1. Apprentice: Levels 1-19 or new probationary members

2. Fellow Craft: Levels 20-29

3. Master Mason: Levels 30-39

4. Abbey Master: Levels 40-49

5. Royal Arch: Levels 50-59

6. Brother Knight: Levels 60-69

7. Master Ad Vitnam: Level 70-79

8. Knight Preceptor: Level 80

9. Generalisimo: Any non-probationary main, nominated and elected by majority vote, serving a leadership/moderator role.

10. Pro Grand Master: Any Long serving Generalisimo nominated by any member and elected by majority vote. Serves as assistant guild master(s).
Ad blocker interference detected!
Wikia is a free-to-use site that makes money from advertising. We have a modified experience for viewers using ad blockers

Wikia is not accessible if you've made further modifications. Remove the custom ad blocker rule(s) and the page will load as expected.