This article is a guild information page for First Generation of Frostwolf US.

The contents herein are entirely player made and in no way represent official World of Warcraft history or occurrences which are accurate for all realms. The characters and events listed are of an independent nature and applied for roleplaying, fictional, speculative, or opinions from a limited playerbase only. Guild pages must comply with the guild page policy.

Server:Frostwolf US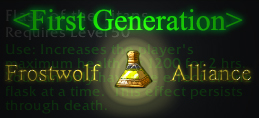 First Generation (http://www.1g-guild.com) is a World of Warcraft alliance guild on the US PVP server Frostwolf that started as the first wave players began to hit level 60 after the game's release. The guild was started by Liucil, one of the most talented original mages on the server (who subsequently created a warrior - Liucy - and achieved Grand Marshal ranking), along with real-life friends Axel, Olga/Vexi, and Women. The guild has focused primarily on PvE accomplishments although many of its members have proven themselves to be formidable PvP opponents.
The guild got its start at attempting the Molten Core (the first real substantial 40-man instance) by allying with the guilds Five Dragons (transferred later; changed to Dragonflight on Frostmane) and Loop Plz (eventually disbanded). However, they soon recruited many more members to accommodate the necessity for guild-only raids. It was in large part Liucil's impressive ability to lead in a fun but persistent way that made First Generation a force to be reckoned with. Before the first available server transfers off of Frostwolf occurred in the summer of 2005, First Generation and Vicious Cycle competed closely in end-game content.
Since the transfer First Generation had been the #1 alliance guild on Frostwolf for PVE progression.
At the end of the Naxxramas era due to an overall need for change First Generation was reformed as Phoenix Down by several core members and officers. Thus ending First Generation on 12-4-2007 the guild was 2+ years old.
Those that called First Generation will forever look on it as home.
Guild Achievements
Edit
First Generation has achieved server first kills of the following Bosses:
Guild Leaders
Edit
Guild Master
Edit
Liucil - "Don't f@#kn' suck!"
Yummitai
Vexi
Women - Peterz
Axel - "It's a wipe"
Menaliah - Blue Ballz
Valk
Sartree
Baske - Evil Gnome IRL
Telinor - Aussie Man-Slut
Janemba - Last Standing Ice Mage
Tigerhawke - Stinky
Andordiel - Why would anyone want to hide a sausage?
Xanthos
Supalink - Rageadin
The Rest of the Crew
Edit
Balth
Gwindelen - Umbridge
Kyomi
Salza
Tiare - Guild Morale Tester
Phenothallic - Music Requests?
Atownblood
Avien - Texas Bigot
Camika - Flask Doper
Deathfathom
Jonoku - Dee Pee Ess
Keya
Lyndondavis
Shiryn - Mario
Shyrin - Luigi
Vampiress - Aussie Grandpa
Bluedragon - The Original Fire Mage
Froggie
Holob - Water Bitch
Mikoya
Minamii - Scorch Whore
Tort - DPS
Mordellos - "Herbalist"
Senvess - Asshole
Tweensy - Blink Extraordinaire
Phenofi - Pheno's Alt: Free water/food!
Chromextra - Lord Blackwood
Joobie - Jewbie
Liah - lol...
Loader - L-oa-d-er
Mattmonay
Realaldrich
Ric - Rogadin
Maxia - CP Whore
Bacteria
Eden - SQUEEEEE
Elend - Goth Healer
Menaliah - Menahhhh
Mamamorton - Sexy Feet
Nessiah - Renew Spammer
Nux - Spirit Bitch
Plucky - Speedo Man
Sedative
Sicko - Loverboy
Sorchitoriki - Shadow Mage my diet consists of only iron kids bread
Sylviana
Jensen
Alsd
Alsk
Bigbill
Gaiusjulius - Gay Ass Julius
Limxdul
Mekhfe - See Mekhfe
Relyn
Sharon
Virus
Dabientoe - "Shithead"
Dano - Sausage Man "How do girls cum?"
Lund - 8 Year Old
Outla
Pele
Tanalasta - Fapalasta
Xane
Phenored - Pheno's Alt
Anshar - Mena's Lover
Bloodlord - AFK Lord
Denmer
Drizzo
Forne - See Furgen
Futou - Rogue in Plate
Graybeard - Virgin
Xet
Klangadin
First Generation Nicknames
Edit
"First Gen is teh Worst Gen"
Flask Generation
First Stupids
"You guys are tons of bads"
1G
First Transgenders
First Generation Member History
Edit
Pre-Molten Core Era, the good old UBRS days
Edit
Sindori ** Paladin** (kicked)
Yugami ** Priest ** (quit)
Pri **Paladin** (disappeared)
Akinoba **Mage** (moved to Taiwan)
Requiem **Mage** (disappeared)
Rei ** Priest ** (quit)
Molten Core Era
Edit
Stinky ** Rogue** (joined VC)
Painless ** Warlock ** (quit)
Maxia ** Paladin ** ( account banned, rerolled a warrior aka Futou)
Exodyne ** Paladin ** ( joined VC)
Fayfaye ** Rogue** (kicked)
Demonwithin ** Paladin ** ( joined VC)
Destructor **Priest** (kicked)
Kfenzel ** Hunter** (kicked)
Amoonsin ** Paladin** (retired)
Gildon ** Rogue ** (quit)
Gubachuck ** Warlock ** (kicked)
Cosis **Druid** (kicked)
Holypat ** Paladin** (kicked)
Cherie ** Warlock ** (quit)
Heman ** warrior** (quit)
Dragnoth ** Hunter ** (kicked)
Adaon ** Mage ** (disappeared)
Soni ** Warlock ** (retired)
Akuangel ** Mage ** (retired)

The Great Migration to Frostmane
Rare ** Rogue** (joined since Pre-MC)
True ** Druid** ( joined since pre-MC)
Quinn ** Paladin** (joined since pre-MC)
Marae ** Warlock ** (joined since pre-MC)
Gurnnison ** Hunter ** (joined since Pre-MC)
Carind ** Druid ** (joined during MC)
Blackwing Lair Era
Edit
Venustus ** Mage ** (disappeared)
Tizan **Priest** (quit)
Devarin ** Priest** ( quit)
Konoko ** Priest** (quit)
Gerhalt ** Priest** (quit)
Shadowsbane ** Priest** (retired)
Silverwing ** Hunter ** (retired)
Samm ** Priest ** (disappeared)
Bokchoy ** Druid ** (retired)
Evelyn ** Mage ** (quit)
Doodlebugs ** Druid ** (retired)
Drreginald ** warlock** (quit)
Bannon ** Priest ** (disappeared)
Kinesae ** hunter ** (kicked)
Fric ** mage** (disappeared)
Jariod ** Paladin** (retired)
Soupman ** Priest** (quit)
Marlas ** Warlock** (disappeared)
Yihwen ** Priest** (quit)
Mckenna ** Mage** (disappeared)
Crunked ** Druid** (disappeared)
Murasame ** Warrior** (quit)
Thommie ** Hunter** (quit)
Squek ** Warrior** (kicked)
Joomy ** Warrior** (disappeared)
The Dark Age - AQ Era
Edit
Riiko ** Priest ** ( retired)
Kaminoko ** Priest ** (retired)
Duet/Kai ** Paladin** (went crazy)
Kiro ** Warrior** (retired)
Vmmo ** Druid ** (retired)
Nap ** Druid ** (retired)
Yummitai ** Hunter ** (disappeared)
Schnieder ** Rogue ** (retired)
Tigerhawke ** Hunter ** (retired)
Trimis ** Mage** (retired)
Naxxramas Era
Edit
Ophy ** Mage ** (quit)
Coercions ** Paladin** (quit)
Nubrius **Druid** (quit)
Apollas **Mage** (retired)
Rawrbear **Druid** (kicked)
Runkpocker Cock Puncher (Left)
Dabientoe **Rogue** (quit wow)