This article is a guild information page for Exodus of Shadow Council US.

The contents herein are entirely player made and in no way represent official World of Warcraft history or occurrences which are accurate for all realms. The characters and events listed are of an independent nature and applied for roleplaying, fictional, speculative, or opinions from a limited playerbase only. Guild pages must comply with the guild page policy.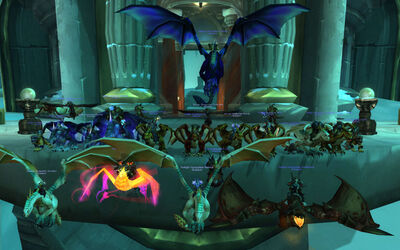 Exodus is a Horde endgame raiding guild on the realm Shadow Council US. Exodus was founded in February of 2006, and remains one of the oldest guilds on the server. The guild focuses primarily on 10 player raid content, and has been consistently ranked among the top guilds in server progression.
Exodus raidsTuesday to Thursday (Mondays optional on progression) from 9:00pm to approximately 12:30am Central Time. While Exodus does not organize PvP and RP events, many of its members do participate in such activities. Normal/Heroic content is also explored casually during off-nights.
Potential recruits are asked to visit the Exodus Web Site for up-to-date recruitment needs.
Guild Information
Edit
Name: Exodus
Faction: Horde
Server: Shadow Council US
Focus: 10 Player Raiding
Loot Distribution: Godloot Council
Guild Master: Akkei
Officers: Pangsh, Cathulu, Sentinus
Progression as of October 12, 2013
Edit
Mogu'shan Vaults (10 player) 6 / 6
Mogu'shan Vaults (10 player) Hard Mode 6 / 6
Heart of Fear (10 player) 6 / 6
Heart of Fear (10 player) Hard Mode 6 / 6
Terrace of Endless Springs (10 player) 5 / 5
Terrace of Endless Springs (10 player) Hard Mode 5 / 5
Throne of Thunder (10 player) 12 / 12
Throne of Thunder (10 player) Hard Mode 13 / 13
Siege of Orgrimmar (10 player) 14/14
Siege of Orgrimmar (10 player) Hard Mode 7/14
External Links
Edit