This article is a guild information page for Allied Brewers of Moon Guard US.

The contents herein are entirely player made and in no way represent official World of Warcraft history or occurrences which are accurate for all realms. The characters and events listed are of an independent nature and applied for roleplaying, fictional, speculative, or opinions from a limited playerbase only. Guild pages must comply with the guild page policy.
Allied Brewers Guild Description Edit
A diverse group of brewers joined together with the common goal of promoting the enjoyment of fresh beers, wines and liquor brewed locally by people who live in their communities and have a passion for this ancient art.
Our company thus far is made up of a small, dedicated band of beer mavericks. A career in the craft brewing industry can be highly rewarding for the right individual. If you have a love for craft beer and a passion for the industry we suggest you start by contacting one of our Brewhouse Operators.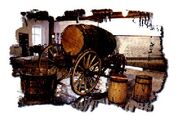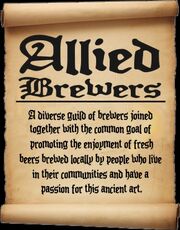 Allied Brewers Roleplay StyleEdit
Allied Brewers is a light to moderate RP and PVE Guild. The guild RP focuses on the operation of our brewery and promoting comraderie and craft brewing (and consuming) throughout Azeroth regardless of race or creed. Brewers from all walks of life who are allied together as one!
We are currently seeking motivated players looking for a long term home. We host regular weekly RP events, and major events occasionally. Our latest major event was the "World Market Tour".
Current Events: ♦ - A bi-weekly brewcraft release night on Friday from 9pm to 12mid. We had used the Stormwind park tavern but now float from tavern to tavern depending on availability. Try our craft brews, wine and liquor as well as some food available. ♦ - World Market: Quarterly seasonal beer release party. Seasonal beers and food.
We welcome new roleplayers and are easy going about those who are new to RP or are casual roleplayers. We strive to encourage RP and guide players who are willing to learn. If you want to play the game in its entirety, roleplay a bit, and have fun... join us!
Guild Chat is OOC, /Whisper/Party Chat are predefined by members speaking on those channels.
Join us for good times, good friends and good brew!
Guild Officers: Contact Information Edit
Brewhouse Management
Brewhouse President/Brewmaster - Shinfayne Gaelsong
Brewmaster - Danmosh
Chief of Staff - Zymurgy
The Officers can be contacted in-game at any time in regards to recruitment. There are no restrictions on joining as long as you agree with our bottom line; We are respectful and we are here to have fun!
Ad blocker interference detected!
Wikia is a free-to-use site that makes money from advertising. We have a modified experience for viewers using ad blockers

Wikia is not accessible if you've made further modifications. Remove the custom ad blocker rule(s) and the page will load as expected.