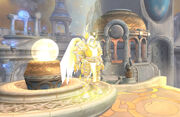 Guardian of Ancient Kings is a paladin ability learned at level 75 for those with the Protection specialization. The spell summons a Guardian of Ancient Kings that halves incoming damage for 12 seconds, doubling your survivability and reducing strain on the healer, as well as aiding in combat.
Patch changes
Edit
See also
Edit
External links
Edit
Ad blocker interference detected!
Wikia is a free-to-use site that makes money from advertising. We have a modified experience for viewers using ad blockers

Wikia is not accessible if you've made further modifications. Remove the custom ad blocker rule(s) and the page will load as expected.