The subject of this article was removed from World of Warcraft after the Warlords of Draenor opened the Dark Portal.

The in-game information in this article is kept purely for historical purposes and may not need to remain under any other categories.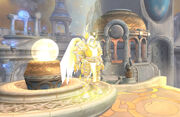 Guardian of Ancient Kings is a paladin ability learned at level 75 for those with the Holy specialization. The spell summons a Guardian of Ancient Kings that aids in healing, casting the same healing effect on your target, effectively acting as a second healer. Successful heals will increase the paladin's haste by 10% each time.
Patch changes
Edit
See also
Edit
External links
Edit
Ad blocker interference detected!
Wikia is a free-to-use site that makes money from advertising. We have a modified experience for viewers using ad blockers

Wikia is not accessible if you've made further modifications. Remove the custom ad blocker rule(s) and the page will load as expected.