The subject of this article was removed from World of Warcraft after the Warlords of Draenor opened the Dark Portal.

The in-game information in this article is kept purely for historical purposes and may not need to remain under any other categories.
Guardian of Ancient Kings

Guardian of Ancient Kings

30 yd  range

3 min cooldown
sec

cast

Summons a Guardian of Ancient Kings to help you heal for 15 sec.

The Guardian of Ancient Kings will heal the targets of your heals for an additional 100% of the amount healed and grants you 10% haste for its duration.

Usable by
Class
Paladin
Properties
Type
Utility
School
Holy
Casting time

Instant cast

Cooldown
3 min
Talents
Specialization
Holy
Level required
75
Related buff

TCG

image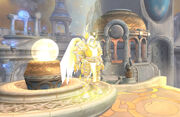 Guardian of Ancient Kings is a paladin ability learned at level 75 for those with the Holy specialization. The spell summons a Guardian of Ancient Kings that aids in healing, casting the same healing effect on your target, effectively acting as a second healer. Successful heals will increase the paladin's haste by 10% each time.
Patch changes
Edit
See also
Edit
External links
Edit