"Speak with me when you're ready to go."[TCG src]
Gryth Thurden is a level 55 gryphon flight master located in the Great Forge in the dwarf city of Ironforge. Like most dwarven gryphon masters, he hails from Aerie Peak in the Hinterlands.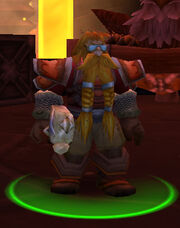 He starts the quest

 [10] Return to Brock.
External links
Edit
Ad blocker interference detected!
Wikia is a free-to-use site that makes money from advertising. We have a modified experience for viewers using ad blockers

Wikia is not accessible if you've made further modifications. Remove the custom ad blocker rule(s) and the page will load as expected.