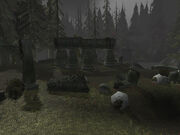 The Grove of the Ancients[42, 79] is a sacred ruin of an old night elven temple, where Onu, an Ancient of Lore, resides together with a pair of merchants and a sleeping druid. The grove lies in the southeastern part of Darkshore, nestled near the mountains, and is built around the surging Wildbend River.
The Circle of Ancients meets here.[citation needed]
In Cataclysm
Edit

This section concerns content exclusive to Cataclysm.
In the expansion

Cataclysm, the Grove of the Ancients is transformed into a beautiful looking grove surrounded by green and purple trees in the form of Ancients. Onu still lives inside the Grove. Additionally, the Grove is upgraded to a major quest hub complete with a flight master.
Grove of the Ancients NPCs
Edit
Flight Paths
Edit
Ad blocker interference detected!
Wikia is a free-to-use site that makes money from advertising. We have a modified experience for viewers using ad blockers

Wikia is not accessible if you've made further modifications. Remove the custom ad blocker rule(s) and the page will load as expected.