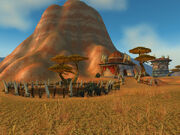 Grol'dom Farm [56, 40] is one of the many orcish pig farms that have sprung up in the years after the founding of Orgrimmar. It is inhabited by Kranal Fiss, a farmer who also has a mission to offer to shamans seeking the totem of fire. In addition to Kranal, there are a few small orcish children present.
Cataclysm
Edit

This section concerns content exclusive to Cataclysm.
In Cataclysm the farm will be a quest hub and gain the Humble Monument, which is a memorial of Mankrik's deceased wife, Olgra.
Ad blocker interference detected!
Wikia is a free-to-use site that makes money from advertising. We have a modified experience for viewers using ad blockers

Wikia is not accessible if you've made further modifications. Remove the custom ad blocker rule(s) and the page will load as expected.