Grim Guzzler Boar

Item Level

55

Requires level 45
Use: Restores 2148 health over 30 sec. Must remain seated while eating.
Sell Price: 2
Cooldown: 1 sec
Vendor 40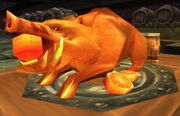 This item is sold by Plugger Spazzring, a leper gnome in the Grim Guzzler tavern in Blackrock Depths.
Also found on the tables in the tavern of Blackrock Depths.
External links
Edit