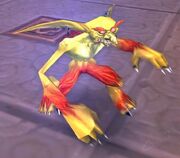 Gregarious Grell is a Humanoid Battle pet Companion which can be obtained from the rare "Vicious Grell" card in the "Crown of the Heavens" expansion for the World of Warcraft Trading Card Game. To claim this pet, you must go to Blizzard's promotion page and enter in the 25-digit code displayed on your card. This will then give you an in-game code which can be redeemed by Landro Longshot in Booty Bay for [Grell Moss]. Upon using the Grell Moss, the item is consumed and the Grell is added to your list of pets.
Patch changes
Edit

Patch 4.3.0 (29-Nov-2011): Added.

External Links
Edit
Ad blocker interference detected!
Wikia is a free-to-use site that makes money from advertising. We have a modified experience for viewers using ad blockers

Wikia is not accessible if you've made further modifications. Remove the custom ad blocker rule(s) and the page will load as expected.