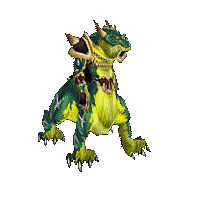 Heeding the call of their goddess, Ysera, the Green Dragonspawn stand to protect Azeroth from the waking evil within the Sunken Temple. Dragonspawn form the ranks of the ground army within each of the five great dragonflights. Among the murk-ridden marshes of the Swamp of Sorrows, the Green Dragonspawn patrol at the behest of their dreaming mistress; Ysera has warned of a lurking terror within the temple, and her loyal servants are determined to protect the land from the emerging doom.[1]
Reference list
Edit
Ad blocker interference detected!
Wikia is a free-to-use site that makes money from advertising. We have a modified experience for viewers using ad blockers

Wikia is not accessible if you've made further modifications. Remove the custom ad blocker rule(s) and the page will load as expected.