Ad blocker interference detected!
Wikia is a free-to-use site that makes money from advertising. We have a modified experience for viewers using ad blockers

Wikia is not accessible if you've made further modifications. Remove the custom ad blocker rule(s) and the page will load as expected.
Green Wind Rider

Item Level

60

Requires level 60
Requires Riding (225)
Use: Teaches you how to summon this mount. Can only be used in Outland or Northrend.
Vendor 50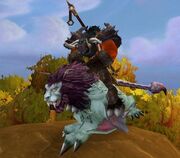 This item can be purchased for 50

from Bana Wildmane <Wind Rider Keeper> in Hellfire Peninsula and Dama Wildmane <Wind Rider Keeper> in Shadowmoon Valley.
External links
Edit