For rolling Greed on loot, see Greed.

Greed

Item Level

200

Speed 2.60
261 - 485 Damage
(143.5 damage per second)
+29 Agility
+57 Stamina
Durability 75 / 75
Requires level 80
Equip: Increases attack power by 80.
Equip: Increases armor penetration rating by 22.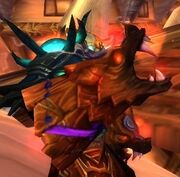 This item can be found inside Dark Runed Chest after defeating Mal'Ganis in Culling of Stratholme on heroic mode. It matches Pride, the offhand you can purchase with 50 Emblem of Heroism in Dalaran.
The Drop rate is 20%.
External links
Edit