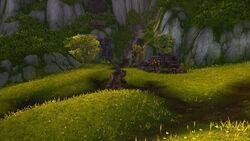 The Grassy Cline[70.5, 23.4] is a rolling series of grass-covered hills found due west of Thunderfoot Fields in the Valley of the Four Winds. There is a very small pandaren camp located northwest of Thunderfoot Ranch in the area; nearby is the entrance to the Veiled Stair via the Path of a Hundred Steps.
Flight paths
Edit
Inhabitants
Edit
Quest givers
Services
NPCs
Mobs
Patch changes
Edit
External links
Edit
Ad blocker interference detected!
Wikia is a free-to-use site that makes money from advertising. We have a modified experience for viewers using ad blockers

Wikia is not accessible if you've made further modifications. Remove the custom ad blocker rule(s) and the page will load as expected.