Granite Boulder

"You couldn't possibly carry more than one..."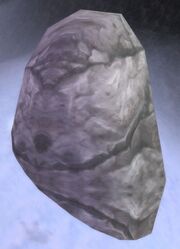 Granite Boulders are used during the quest Mending Fences. While possessing [Thorim's Charm of Earth], you pick them up, then throw them at Stormforged Iron Giants and at Fjorn, causing them to summon Earthen to assist you.
External links
Edit
Ad blocker interference detected!
Wikia is a free-to-use site that makes money from advertising. We have a modified experience for viewers using ad blockers

Wikia is not accessible if you've made further modifications. Remove the custom ad blocker rule(s) and the page will load as expected.