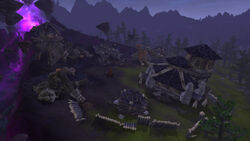 The Gorshak War Camp[62, 46] is located southeast of Bloodgulch and northeast of Firebeard's Patrol in the Twilight Highlands. It was a Dragonmaw clan town before being sacked by the Twilight's Hammer clan, and only a few survivors remain. The Wildhammer clan has come in to claim what goods they can find.
Inhabitants
Edit
NPCs
Mobs
Patch changes
Edit
External links
Edit
Ad blocker interference detected!
Wikia is a free-to-use site that makes money from advertising. We have a modified experience for viewers using ad blockers

Wikia is not accessible if you've made further modifications. Remove the custom ad blocker rule(s) and the page will load as expected.