Gorkun Ironskull can be found in the Pit of Saron of Icecrown Citadel as a slave. After the defeat of Forgemaster Garfrost, he leads the Horde army to fight Scourgelord Tyrannus. His Alliance counterpart is Martin Victus.
 [80D] 

The Path to the Citadel

 [80D] 

Deliverance from the Pit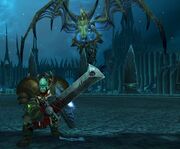 Before he is killed by Sindragosa:
Gorkun Ironskull yells: Brave champions, we owe you our lives, our freedom.... Though it be a tiny gesture in the face of this enormous debt, I pledge that from this day forth, all will know of your deeds, and the blazing path of light you cut through the shadow of this dark citadel.
Gorkun Ironskull yells: This day will stand as a testament not only to your valor, but to the fact that no foe, not even the Lich King himself, can stand when Alliance and Horde set aside their differences and---
Patch changes
Edit

Patch 3.3.0 (08-Dec-2009): Added

External links
Edit
Ad blocker interference detected!
Wikia is a free-to-use site that makes money from advertising. We have a modified experience for viewers using ad blockers

Wikia is not accessible if you've made further modifications. Remove the custom ad blocker rule(s) and the page will load as expected.