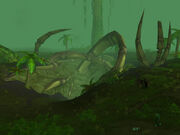 The Slithering Scar is a subzone in the southern part of Un'goro Crater and is home to one of the minor silithid hives named Gorishi. It may be significant that there are no silithid hives near the Un'Goro pylons except in the south, where a southern pylon is mysteriously absent. The Gorishi Silithid Crystal can be found inside the hive.
List of mobs
Edit
Ad blocker interference detected!
Wikia is a free-to-use site that makes money from advertising. We have a modified experience for viewers using ad blockers

Wikia is not accessible if you've made further modifications. Remove the custom ad blocker rule(s) and the page will load as expected.