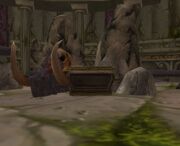 Gordok Tribute is a container that spawns upon defeating King Gordok in Dire Maul. The quality of the loot found inside is greater by sparing Captain Kromcrush, Guard Mol'dar, Guard Fengus and Guard Slip'kik.
In Cataclysm
Edit

This section concerns content exclusive to Cataclysm.
In Cataclysm, all Dire Maul loot will be updated to meet a lower level range.
Possible Gordok Tribute Rewards
Pre-Cataclysm
Edit
Possible Gordok Tribute Rewards
See also
Edit
Patch changes
Edit
/

Patch 4.0.1

(12-Oct-2010): Item level of contents reduced.


Patch 1.6.0

(12-Jul-2005): Fixed a bug that was causing the Gordok Tribute Chest to despawn too soon.


Patch 1.3.0

(07-Mar-2005): Added.

External links
Edit
Ad blocker interference detected!
Wikia is a free-to-use site that makes money from advertising. We have a modified experience for viewers using ad blockers

Wikia is not accessible if you've made further modifications. Remove the custom ad blocker rule(s) and the page will load as expected.