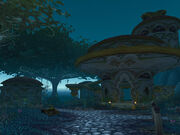 Goldenmist Village
[26, 15]
is located in the top-left area of the
Ghostlands
. It was a
high elven
village
before its inhabitants were slain during the coming of the
Scourge
. They now haunt the village ruins as aggressive
ghosts
.
This area is used as part of the warlock quest The Rune of Summoning. After acquiring a Voidstone, you must use it at the Rune of Summoning and defeat the summoned voidwalker to get the voidwalker pet.
It is also involved in

 [11] Goldenmist Village from Tranquillien that requires the slaying of the ghosts here.