102,924pages on
this wiki
Talk

0
Not yet released!

This article or section includes information about announced content that has not been released yet. The expected release date is unknown.
Please remove this template when the content has gone live.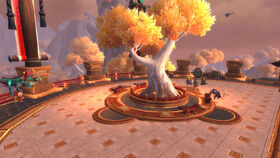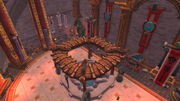 The Golden Terrace is located within the Shrine of Two Moons, the Horde bastion within the Vale of Eternal Blossoms. The Golden Terrace is split into a lower and upper section, both situated outside, but connected to, the main building.
As seen below, all of the factions introduced with Pandaria are found in the lower section, most of them offering quests. The upper section offers training for flight and the Pet Battle System, as well as the flight master and stable master.
Inhabitants
Lower section
Quest givers/enders
Merchants
NPCs
Upper section
Services
Trainers
NPCs
Patch changes