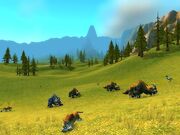 The Golden Plains
REDIRECT Template:Map/Coords are a large basin surrounding Thunder Bluff on the southeast. The Golden Plains are one of the most treasured parts of the Tauren homeland, and are one of the Tauren people's favourite hunting grounds. Large numbers of kodo congregate here, and it is said that the famous Arra'chea also dwells in the shifting green sea of grass.
Ad blocker interference detected!
Wikia is a free-to-use site that makes money from advertising. We have a modified experience for viewers using ad blockers

Wikia is not accessible if you've made further modifications. Remove the custom ad blocker rule(s) and the page will load as expected.