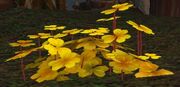 Goldclover is a herb that can be gathered by herbalists. Requires 350 Herbalism to gather.
Goldclover is a yellow clover that grows in open fields devoid of snow. It is found in:
It can also be gathered from Frozen Herb spawns in the Dragonblight (10), Zul'Drak, and Wintergrasp. It is the lowest-level herb in Northrend, and usually the first one that herbalists will encounter and harvest.
Reagent for
Edit
Patches and hotfixes
Edit

/

Patch 3.0.2 (14-Oct-2008): Added

External links
Edit

Goldclover Farming - OmgNab.com
Herbalism herbs
Seeds
Apprentice
Journeyman
Expert
Artisan
Master
Grand Master
Illustrious Grand Master
Zen Master
Draenor Master
Fel? Master
† Added with
Ad blocker interference detected!
Wikia is a free-to-use site that makes money from advertising. We have a modified experience for viewers using ad blockers

Wikia is not accessible if you've made further modifications. Remove the custom ad blocker rule(s) and the page will load as expected.