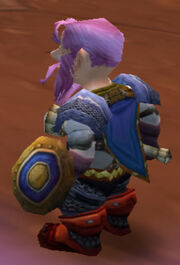 The Gold-plated Buckler is small shield that drops from
 Helix Gearbreaker in the Deadmines.
It used to drop off Miner Johnson in the original Deadmines. Miner Johnson was a rare spawn and did not appear every time in the instance.
Patch changes
Edit
Patch 4.0.3a

(2010-11-23): Armor increased; Agility and block removed; Strength added

External links
Edit
Ad blocker interference detected!
Wikia is a free-to-use site that makes money from advertising. We have a modified experience for viewers using ad blockers

Wikia is not accessible if you've made further modifications. Remove the custom ad blocker rule(s) and the page will load as expected.