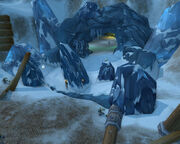 Gol'Bolar Quarry Mine is a deep mine located in the heart of Gol'Bolar Quarry. It was once a dwarven excavation site but, in the middle of a dig, the dwarves uncovered one of the underground caverns belonging to the troggs. The troggs pushed the dwarves out, and also took over the quarry outside of the mine. As opposed to the lower-level troggs in the outer quarry, this mine holds some of their strongest numbers which includes their leader, Hammerspine. Enter with caution!
Ad blocker interference detected!
Wikia is a free-to-use site that makes money from advertising. We have a modified experience for viewers using ad blockers

Wikia is not accessible if you've made further modifications. Remove the custom ad blocker rule(s) and the page will load as expected.