For the mob (seen in Gnomeregan among other places), see Alarm-o-bot.

Gnomish Alarm-O-Bot

Item Level

53

Requires Engineering (265)
Use: Summons an Alarm-O-Bot for 2 minutes that occasionally sends out a pulse that detects nearby stealthy or invisible enemies.
1 Charges
Sell Price: 15
Cooldown: 5 min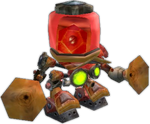 Gnomish Alarm-O-Bot summons Alarm-o-Bot, a guardian pet alarm-o-bot that lasts for 2 minutes or until destroyed. Note that as a malfunction, it sometimes displays the pulse animation without actually sending out a pulse.
Like with many other mechanical devices (such as Target Dummy), when it expires, you can "loot the body" for some portion of the original materials.
This item can be crafted by engineers who have specialized in Gnome Engineering, and have a minimum skill level of 265
Components needed (per 2 made):
The recipe for this item is taught by [Schematic: Gnomish Alarm-O-Bot]. This schematic is an uncommon drop from Weapons Technicians in Blackrock Depths.
Patch changes
Edit
External links
Edit
Ad blocker interference detected!
Wikia is a free-to-use site that makes money from advertising. We have a modified experience for viewers using ad blockers

Wikia is not accessible if you've made further modifications. Remove the custom ad blocker rule(s) and the page will load as expected.