Glowing Cat Figurine

Use: Summons a Ghost Saber to fight for you for 10 min.
1 Charges
Sell Price: 15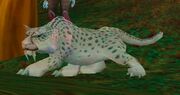 A Glowing Cat Figurine will summon a Ghost Saber cat to fight with you. This cat is not controllable like a hunter's pet but will assist you when you are attacked.
This item drops from Ghost Sabers in Darkshore. Ghost Sabers will sometimes appear when you loot small Cat Statues in the Ruins of Mathystra.
External links
Edit
Ad blocker interference detected!
Wikia is a free-to-use site that makes money from advertising. We have a modified experience for viewers using ad blockers

Wikia is not accessible if you've made further modifications. Remove the custom ad blocker rule(s) and the page will load as expected.